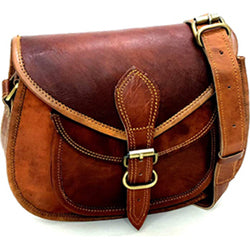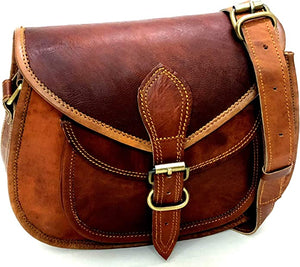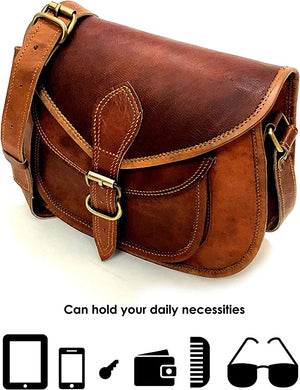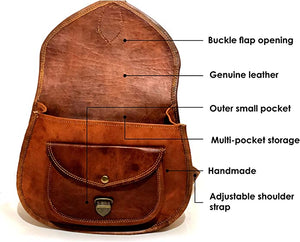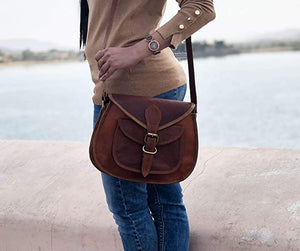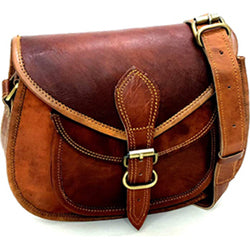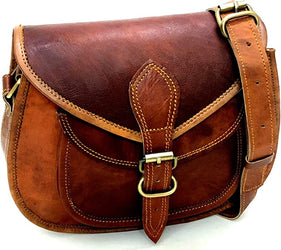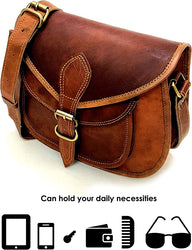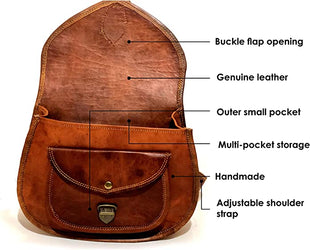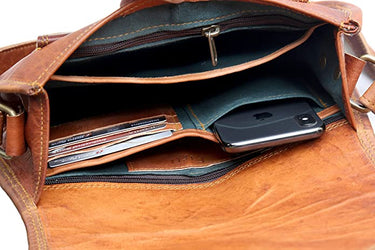 FEATURES
Size - This bag comes into two sizes. 9(H) x 11(W) / 10(H) x 13(W).

This bag has plenty of room inside with two compartments, pocket outside for quick access to items, It also has one large zipper inside. For personalized and utility as you always need.
Handmade Leather – Authentic leather bag is the best quality of the bag that you can have. Handmade leather is the real leather and it can last for years without getting damage and also over the time of use it will give you a vintage look and it will become softer by the time.
Stylish, Rugged and Rustic Women's Bag: Hand made of premium high-quality materials, including top quality goat leather, brass metal buckles, and full grain leather to survive the elements and years of wear and tear. A perfect design for the girl or lady it can be your wife, daughter or friend, Perfect Gift.
The Multi-Utility Bag: This Leather bag is a purely multi-utility bag and it can be used as a ladies tote, diaper bag, ladies purse, cross body bag, shoulder bag. You can style it with your every outfit.
Eco-Friendly - This bag is made of eco-friendly leather. We use the natural process of tanning we do not use any type of chemical to our leather. This bag is made of the minimal environmental impact that's why it is the best eco-friendly leather bag.
MATERIALS 
Full-Grain Goat Leather
Brass Material
DESCRIPTION
Crossbody bags are awesome. Not only they carry your essential things but they also upgrade your look. When it comes to women's crossbody bags or any other kind of bag then these bags are a style statement and a necessary accessory. 
This Women's Leather Purse Crossbody Bag will be every woman's ideal.
Our leather bags are inspired by the vintage look. They not only make you feel better about your style but they also easily carry your all essential things. We at Hulsh leather do not compromise in quality. Our leather is handmade and it is tanned naturally.
Reason to choose the leather bags from us – We all look for quality things in terms of anything that we use, and we always want that thing should last long. Leather goods are one of them, Leather is one of the materials which really last long. The following are the reasons why you should choose leather bags from us.
Fast Shipping - 3-7 Working days Guaranteed Delivery
100% Handmade & Handstitched 
Eco - friendly
Made by a real Artisan 
24*7 Customer support
Money Back Guarantee - Get the item you ordered or get your money back.