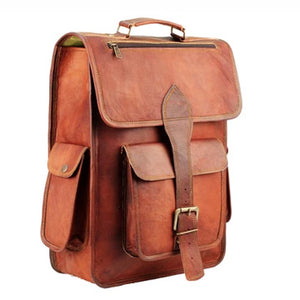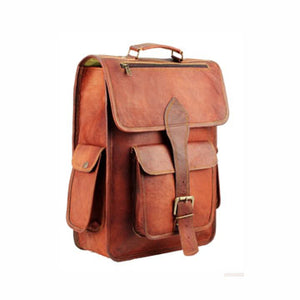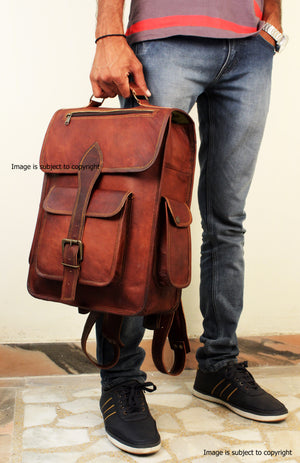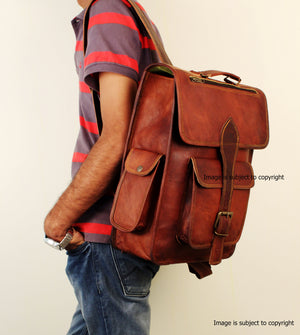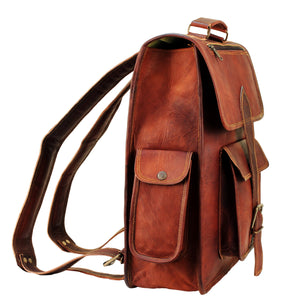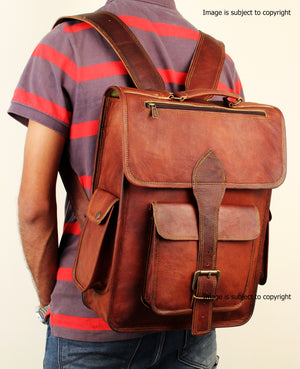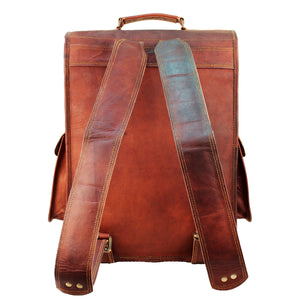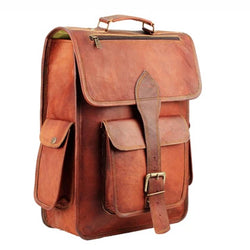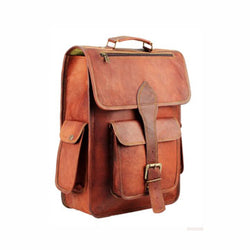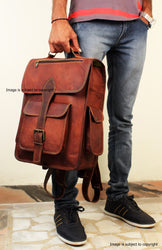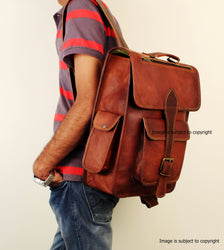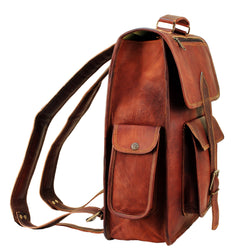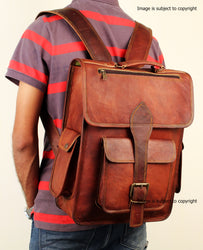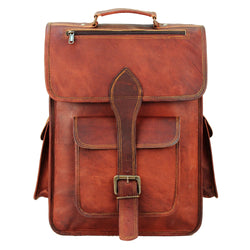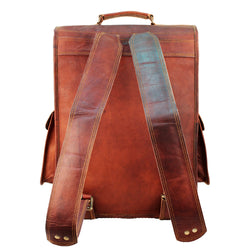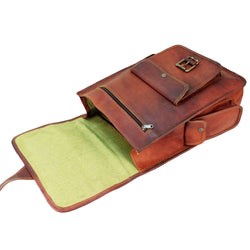 Our leather backpacks for men is a stylish and functional accessory that is perfect for those who are always on the go. Whether you're commuting to work, exploring a new city, or hitting the trails, this leather bag has everything you need to carry your essentials with ease. Leather Backpack bag a very good for travel and shopping. This is a unisex product, making it ideal for men and women.
Our leather backpack is designed to meet the needs of all of your professional needs. Supports up to high weight, super durable and features lots of different pockets to help keep your documents/business cards/phone/laptop organized. Our genuine leather backpack is both durable and soft to the touch, ensuring that it will last for years to come.
Highlights of THE HUGHES RUSTIC BACKPACK 
Timeless Design Suitable for Men and Women
One of the standout features of our leather backpack bag is its classic yet modern design. The neutral color and clean lines make it a suitable choice for various occasions and a perfect accessory for both men and women. The timeless design will never go out of style, making this unisex leather bag a valuable investment that you'll use for years to come.

Ideal for Work, Travel, and Everyday Use
Our leather backpack bag is designed with versatility in mind. Whether you're commuting to work, traveling, or simply running errands, this unisex leather backpack has got you covered. With its spacious compartments and adjustable straps, you can carry all of your essentials in style and comfort, making it the perfect choice for any activity, adventure, or everyday use.

A Perfect Gift for Yourself or Loved Ones
If you're looking for a thoughtful and practical gift for someone special, look no further than our leather backpack bag. Its classic design, high-quality materials, and versatile functionality make it a great choice for anyone who values style and convenience. Whether it's for a birthday, anniversary, or just because, this vintage leather backpack is sure to be a cherished and well-used gift.

Features of Leather Backpack Bag 
Best for 14", 15", 15.6", 17" and 17.3" Laptops

Handcrafted Gift, Made with Love

Skin Friendly & Non-Allergic Leather

Convenient Closure

Very well made to the highest standard

Handmade vintage leather rucksack

Vintage Brown Color

This vintage leather rucksack is brand new and made from genuine goat hide.
Sizes of THE HUGHES RUSTIC BACKPACK
Perfect for 14", 15", 15.6", 17" and 17.3" Laptops
Free Shipping and Returns on THE HUGHES RUSTIC BACKPACK 
Liked this
the hughes rustic backpack
? Great! Hulsh leather offers
free shipping on all orders
. The typical delivery time is between 2- 10 business days, depending on your location.
Need to be happier with our product? Do not worry.
Returns on our website are easy
and hassle-free. If you are unsatisfied with our bag quality,
return your purchase within 30 days
, and we promise to
give you a full refund
without hesitation.
30-Day Money Back Guarantee on THE HUGHES RUSTIC BACKPACK 
All purchases from our store come with a 30-day money-back guarantee. Have you got your eye on something? Try it out for 30 days. If it's not for you, return it to us, and we'll refund the total amount of your order.