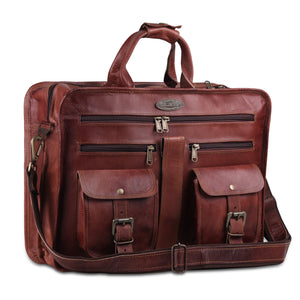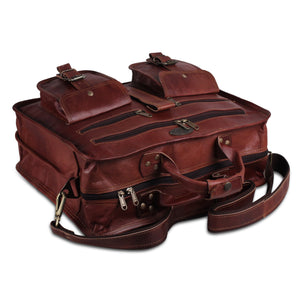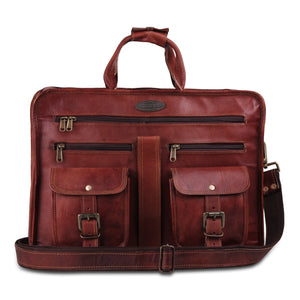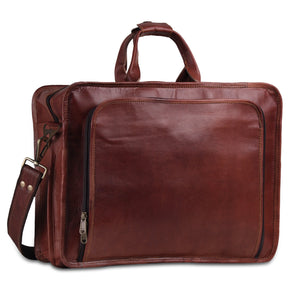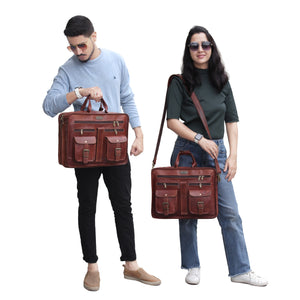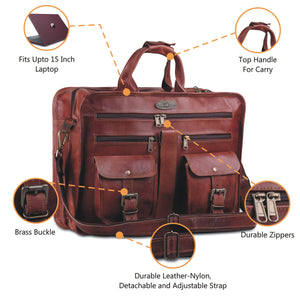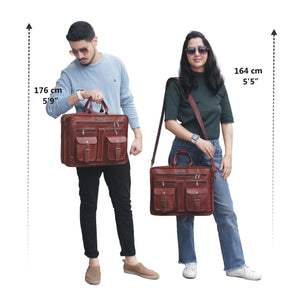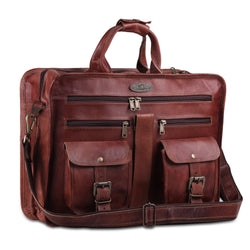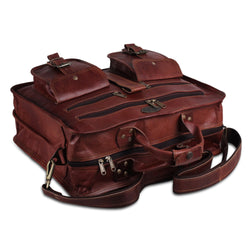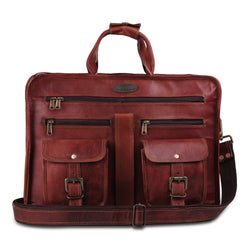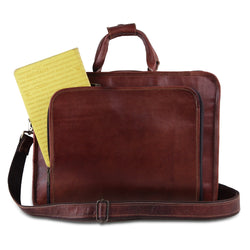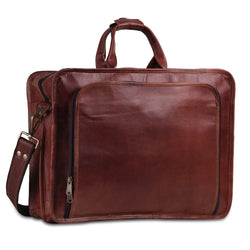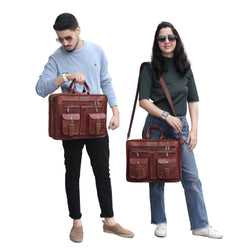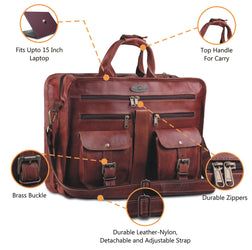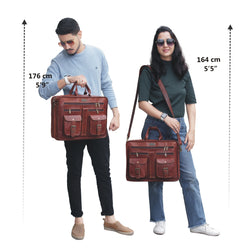 Feature
Size – 16 (W) x 12 (H) x 4.5 (D) Inches

This messenger bag has plenty of room inside with two large compartments
Two pockets outside for quick access to items
Two small and one large zipper on the front side

Material: Full Grain Goat Leather

Color: Brown

Eco-friendly bag

purely handcrafted
Description
Our Jacksonville Leather Briefcase Messenger Bag is all that you need. This bag is a perfect bag for your all type of essentials. You will never be getting bothered about your laptop because this bag has a laptop sleeve padding to protect your laptop.
Unlike messenger bags that look good in photos but don't hold up to real life, this classic piece is made of high-grade materials throughout; the straps and trim are all leather and the brass buckles and sturdy zippers will stand the test of time.
Whether you're in business, or a student or artist, this bag will soon become a trustworthy old friend that can hold the items that you need handy at all times. The front pockets feature touch buttons for easy access to items while you're on the move.
You'll love the way this premium leather bag can tote your devices and papers without feeling bulky and awkward. Many other briefcases styled like vintage bags puff out and are difficult to maneuver as you're making your way to your airplane seat or through a crowded subway car – not ours.
This messenger bag fits seamlessly into whatever the day may bring. Take it with you wherever you need to go, it'll be your trusted sidekick on business trips and on vacation too. You'll never want to leave home without this multi-purpose bag that can keep you organized and ready for anything.
Hulsh Leather offering a vintage-inspired black leather laptop briefcase bag for everyday use, this black leather messenger bag is perfect for the modern traveler with a love for timeless style. The Vintage Black Leather Briefcase Laptop Messenger Bag with Top Lift Handle is crafted from oil-tanned goat hide.
Reason to choose the leather bags from us – We all look for quality things in terms of anything that we use, and we always want that thing should last long. Leather goods are one of them, Leather is one of the materials which really last long. The following are the reasons why you should choose leather bags from us.
Fast Shipping - 3-7 Working days Guaranteed Delivery
100% Handmade & Handstitched 
Eco - friendly
Made by a real Artisan 
24*7 Customer support