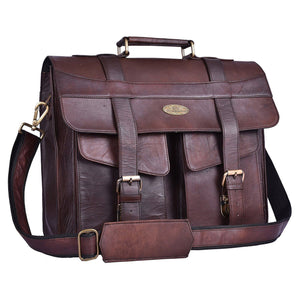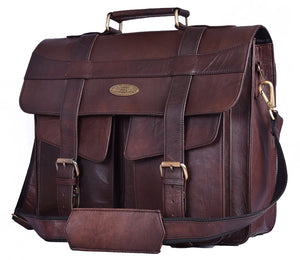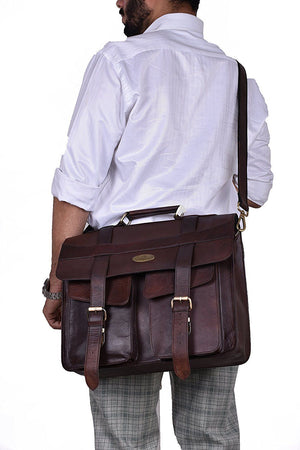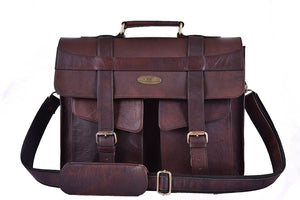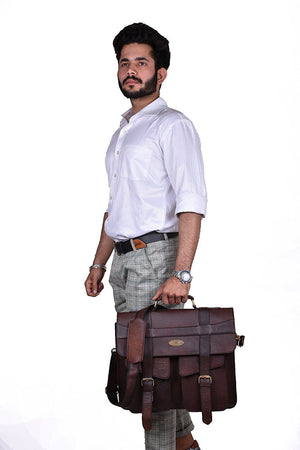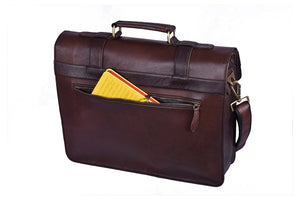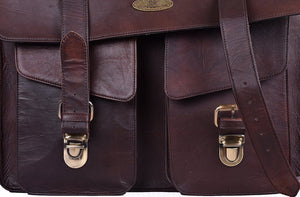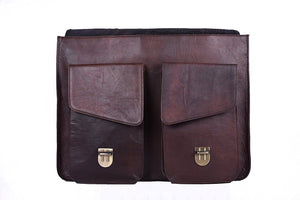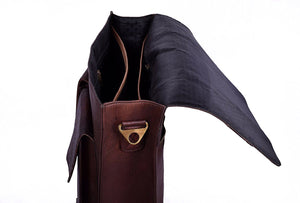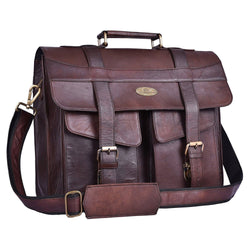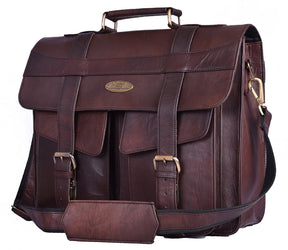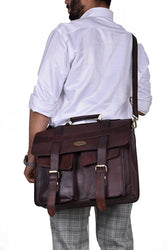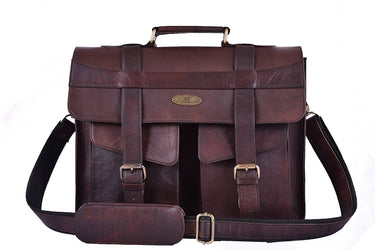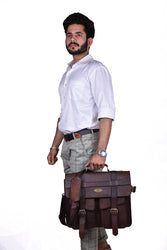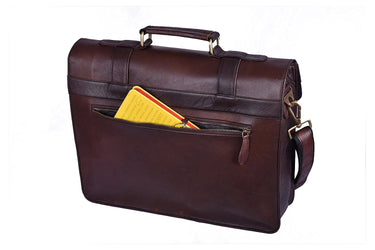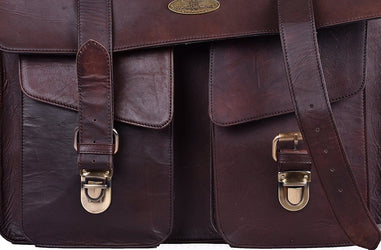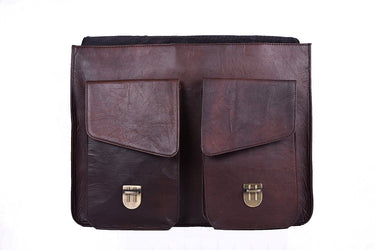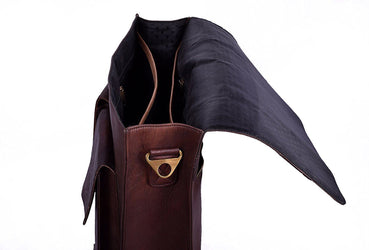 The "Vintage Leather Briefcase Bag" is a timeless classic that combines style and functionality. This leather briefcase is elegance while also being durable and practical. The vintage-inspired design features a spacious main compartment that easily fits a laptop, notebooks, files, and other essential items.
Leather Briefcase interior is lined with soft, suede-like material to protect your belongings and prevent scratches. There are also several pockets and compartments, inside and outside, to help you stay organized and keep everything in its place.
Leather Briefcase exterior features a classic, vintage look with a distressed finish that gives it a unique character and charm. The leather handle provides different carrying options, making it easy to take this briefcase.
This Leather briefcase for men is perfect for professionals who want to add a touch of sophistication to their daily commute or for students who need a durable and stylish bag for carrying their books and laptops. It's a versatile, timeless accessory that will always stay in style. Whether going to the office, traveling, or running errands, this leather briefcase for men is a must-have for anyone who values style and functionality.
Highlights of Vintage Leather Laptop Briefcase
Our vintage leather briefcase bag has a rich, luxurious texture and a striking vintage-inspired design that will turn heads wherever you go. This vintage leather briefcase is perfect for the modern professional who wants to make a statement with their accessories. It's a versatile accessory that can easily take you from the office to after-work drinks, and it's sure to become a treasured addition to your collection.
Leather briefcase with a rich and fascinating history that adds charm and character. What sets this briefcase apart from others is its history. The leather has been carefully sourced from the finest tanneries and has undergone a process of natural aging, giving it a distinct vintage look that tells its own story. Each leather briefcase bag has unique marks and imperfections that testify to its history and add to its overall appeal.
Our leather is durable and long-lasting, allowing them to retain its beauty and functionality for years. Our men's leather briefcase bags are timeless and suitable for any occasion, from casual outings to formal events.
A style that never fades is not just about fashion but also a mindset. It's about valuing quality over quantity and investing in pieces that will last a lifetime. It's about choosing right men's leather briefcase that reflect your style and taste rather than blindly following the latest trends.
Features of Leather Briefcase Bag
Premium Quality

Dimensions And Characters

Enough Room

Handmade Bag With Rustic And Vintage Look

Incredibly Stylish And Best Gift

Full-Grain Goat Leather
Sizes of Vintage Leather Laptop Briefcase
16" Wide x 12" Height x 4.5" Depth fits up to 15.6" laptops.
Free Shipping and Returns on Vintage Leather Laptop Briefcase
Liked this Vintage leather laptop briefcase? Great! Hulsh leather offers free shipping on all orders. The typical delivery time is between 2- 10 business days, depending on your location.
Need to be happier with our product? Do not worry. Returns on our website are easy and hassle-free. If you are unsatisfied with our bag quality, return your purchase within 30 days, and we promise to give you a full refund without hesitation.
30-Day Money Back Guarantee on Vintage Leather Laptop Briefcase
All purchases from our store come with a 30-day money-back guarantee. Have you got your eye on something? Try it out for 30 days. If it's not for you, return it to us, and we'll refund the total amount of your order.