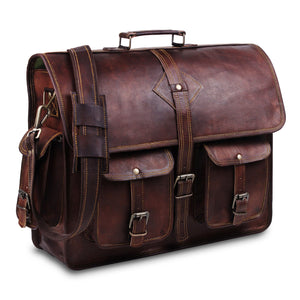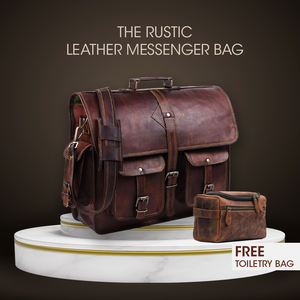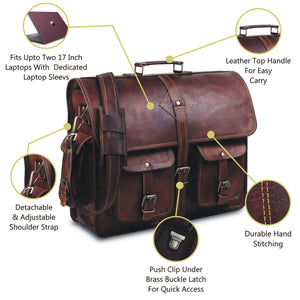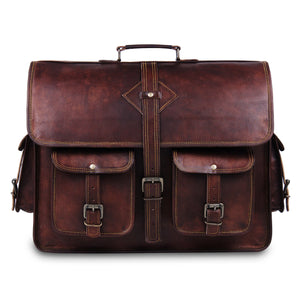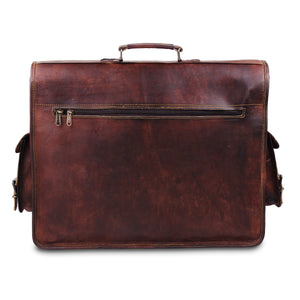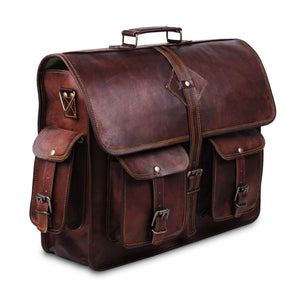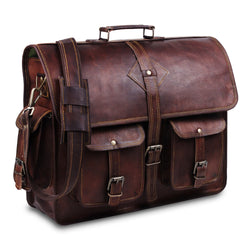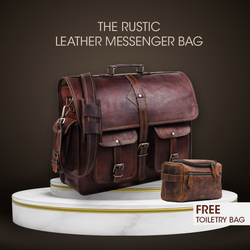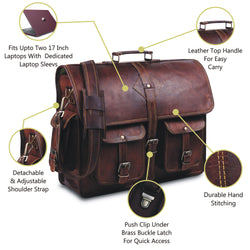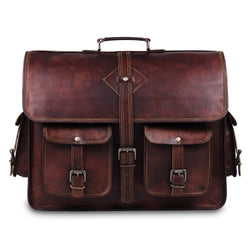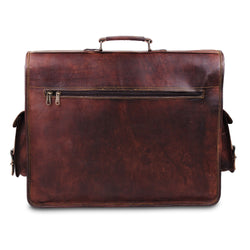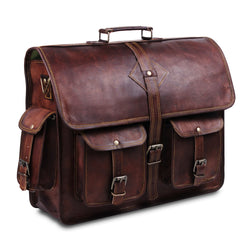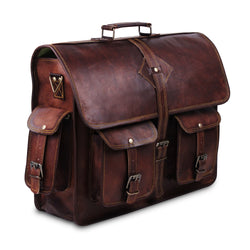 *25% off + Free Toiletry Kit for first 50 customers Only*

A bag is just a space to hold life's essentials, but buying a leather bag is much more than that. And if you are looking to buy a leather messenger bag, you need something just as solid as it is functional, with as much grit as you. Hulsh leather is all about genuine leather messenger bags that always satisfy you. Have a look at "The Rustic," our handmade leather messenger bag with all the qualities you need to keep your essentials safe.
Rustic is built to hold your gear & goods for years from the day you bought it. Skilled crafters make this full-grain leather messenger bag, and we use the most refined quality animal hides. This leather messenger bag is a charm to hold with durable, extra-thick, naturally treated, stylish leather with a removable shoulder strap.

Highlights of The Rustic Messenger Bag 
Made with passion, for passionates

 
Our Rustic Messenger bag is made diligently by skilled artisans. We know what works best when it comes to a leather messenger bag for men, and we crafted this bag precisely and made it functional to handle all of your tasks.
An all-purpose product for all professionals out there 
It doesn't matter what profession you are from and what your purpose is in buying this bag; this Rustic leather messenger bag can be used for multipurpose and is able to hold all your heavy and light items. The main compartment, padded sleeves, pockets, and zippered compartments are enough to keep a laptop, tablet, camera, files, and clothes together. 

Handy, Comfortable, and Ultra Tough 
With a perfectly balanced weight, adjustable and removable strap, and padded top handle, Hulsh's rustic leather messenger bag has more than just a normal leather bag. Shop now and experience the durability and style of our rustic leather messenger bag, you'll feel its toughness, luxury, and ease of carrying essentials just after some days of use.

Features of Leather Messenger Bag 
Genuine full-grain leather messenger bag

Concealed push locks for easy and quick access

Two padded sleeves (one at the front and the other back)

Lined with extra durable canvas

Removable adjustable shoulder strap

Four small pockets; two on the front and two on the side ( 1 on each side )

The main compartment has enough space for other files/folders, and you can also carry overnight clothes with three zippered compartments.
Sizes of The Rustic
15 W x 11 H x 4.5 D in inches (For MacBook or laptops: 13 & 14 Inches)

16 W x 12 H x 4.5 D in inches (For Medium laptops: 15 & 15.6 Inches)

18 W x 13 H x 5 D in inches (For Large laptops: 17 & 17.2 Inches)
Free Shipping and Returns on The Rustic Messenger Bag
Liked this
Rustic messenger bag
? Great! Hulsh leather offers
free shipping on all orders
. The typical delivery time is between 2- 10 business days, depending on your location.
Need to be happier with our product? Do not worry.
Returns on our website are easy
and hassle-free. If you are unsatisfied with our bag quality,
return your purchase within 30 days
, and we promise to
give you a full refund
without hesitation.
30-Day Money Back Guarantee on The Rustic
All purchases from our store come with a 30-day money-back guarantee. Have you got your eye on something? Try it out for 30 days. If it's not for you, return it to us, and we'll refund the total amount of your order.