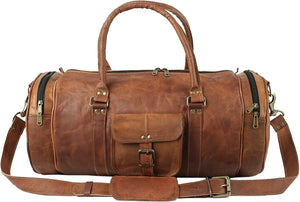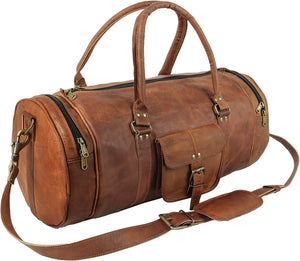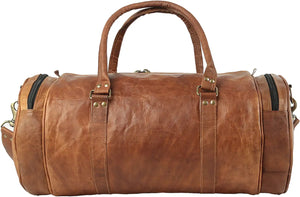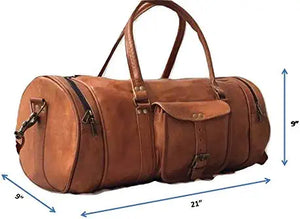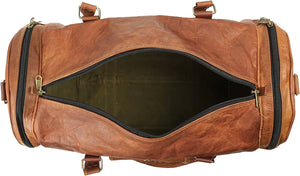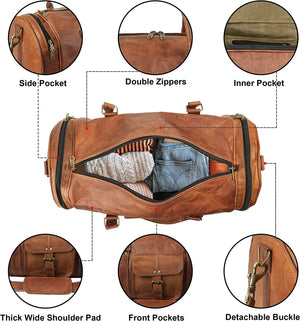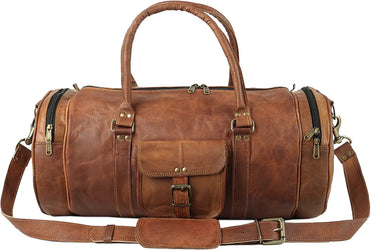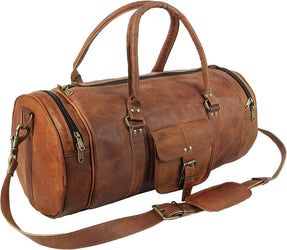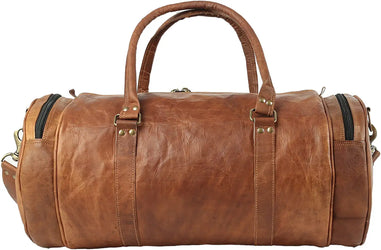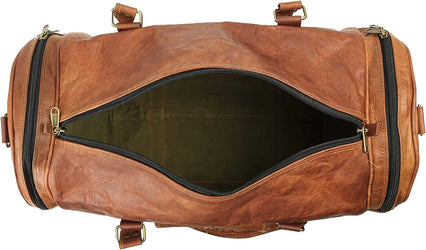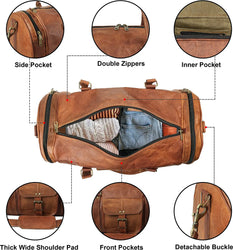 FEATURES 
Genuine 

Leather - Genuine Leather Duffle Bag made of Real Goat Leather, not from PU or Faux which maintains its quality over time Product can be utilized for a longer duration probably for decades if properly stored and maintained.
Ageing Beautifully – This bag is made of genuine leather which is handcrafted by a skilled artisan. And bag darkens with use and gets softer after you start using this and becomes even more attractive. It ages beautifully as you start using this.
Assurance of Authenticity – We only believe in giving the 100 % genuine leather products to our customers. We only use the best quality of leather. You will definitely be finding the product the same as the detail given on the product page. Still, if you ever found any issue regarding the product we are always more than happy to help. We always believe in 100 % customer satisfaction.
Durable Material – Our Handcrafted bags are durable and can last up to 5 years and more than that. Because of the quality of material used by us. Our material will hardly wear off. One good thing about our products is the fact that it becomes softer the more you put it to use making it easy to accommodate more items.
MATERIALS 
Full-Grain Goat Leather
Brass Material
Sizes Available
21" Length x 10" Height x 8.5" Width (Standard Carry On Duffle)
24" Length x 10" Height x 10" Width
28" Length x 12" Height x 12" Width
30" Length x 12" Height x 12" Width
DESCRIPTION
If you want a perfect leather bag and if you are very picky when it comes to your leather goods, this Hush Round Duffle Weekender Bag will be ideal for you. We have developed a wide range of leather duffle bags and all the types of leather bags you could think of to keep your gadgets and important document safe.
Our leather bags are handmade to the highest quality and our designs are inspired by vintage classic look. It will not only make you stylish but also it is very functional and you will be definitely making a style statement wherever you go.
Reason to choose the leather bags from us – We all look for quality things in terms of anything that we use, and we always want that thing should last long. Leather goods are one of them, Leather is one of the materials which really last long. The following are the reasons why you should choose leather bags from us.
Fast Shipping - 3-7 Working days Guaranteed Delivery
100% Handmade & Handstitched 
Eco - friendly
Made by a real Artisan 
24*7 Customer support