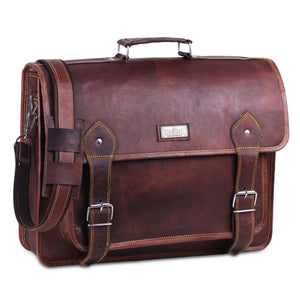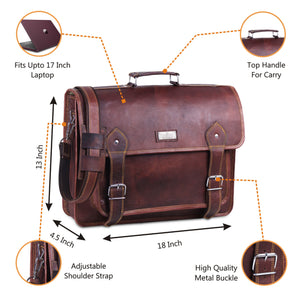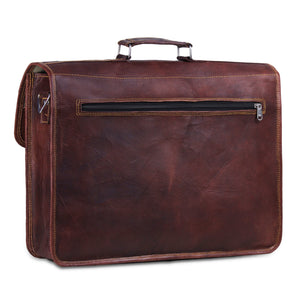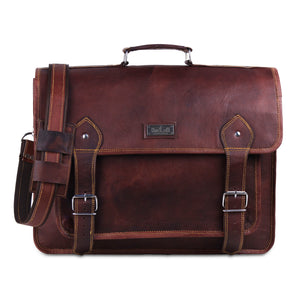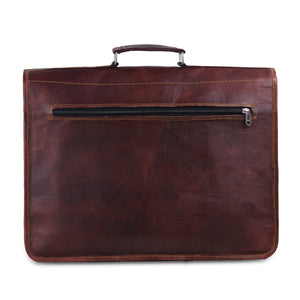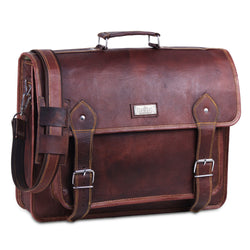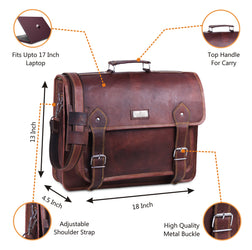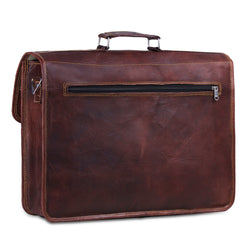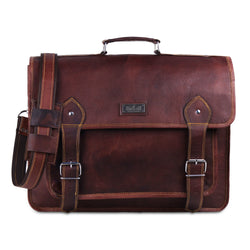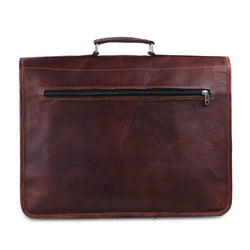 FEATURES 
Stylish and Comfortable - Whether on the go or on your bed, this leather messenger just lets you get at stuff better than backpacks. A good messenger bag is like a large crossbody purse easily accessible and convenient whether you are walking, standing, or sitting.
Real Leather - Genuine Handmade Leather Bag made of Real Goat Leather, not PU or Faux which maintains its quality over time Product can be utilized for a longer duration probably for decades if properly stored and maintained.
Strap & Handle – The Adjustable & removable strap is often wide and very sturdy providing both comfort and durability to the messenger bags. Additionally, this position in which the bag is being carried allows for easy access to its content either in the front or in the side position. And this bag comes with the Top Handle also.
Storage – Whether it is your phone, laptop, and any other important document you can store it in this bag and you also don't need to worry about its safety because there is a large zipper area for safekeeping of your items. And it has laptop padding also to prevent your laptop from any kind of damage.
Size: This well-formed Leather briefcase messenger bag for men and women will provide you easy access to your documents and phone whenever you are in a crowded place. Or in the middle of your way to your destination.

Assured quality – You will be getting the same product as we have shown in the picture and in rare case if you got your bag different from the picture it can be because of photographic effect. Otherwise, we do not compromise in quality
MATERIALS 
Full-Grain Goat Leather
Silver Nickel Material

Sizes
15 W x 11 H x 4.5 D in inches (For MackBook or laptops: 13 & 14 Inches)
16 W x 12 H x 4.5 D in inches (For Medium laptops: 15 & 15.6 Inches)
18 W x 13 H x 5 D in inches (For Large laptops: 17 & 17.2 Inches)
DESCRIPTION
If you want a perfect leather bag and if you are very picky when it comes to your leather goods, this Leather Briefcase Messenger Satchel Bag will be ideal for you. We live in a new era where laptops, tablets, and smartphones are a very important part of our life. We have developed a wide range of leather messenger bags and all the other types of leather bags you could think of to keep your gadgets and important document safe.
Our leather bags are handmade to the highest quality and our designs are inspired by vintage classic look. It will not only make you stylish but also it is very functional and you will be definitely making a style statement wherever you go.
Reason to choose the leather bags from us – We all look for quality things in terms of anything that we use, and we always want that thing should last long. Leather goods are one of them, Leather is one of the materials which really last long. The following are the reasons why you should choose leather bags from us.
Fast Shipping - 3-7 Working days Guaranteed Delivery
100% Handmade & Hand stitched

Eco - friendly
Made by a real Artisan 
24*7 Customer support
Money-Back Guarantee - Get the item you ordered or get your money back.