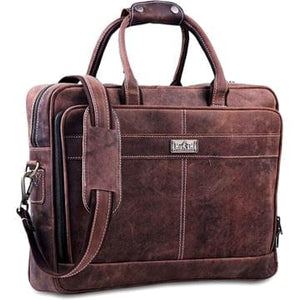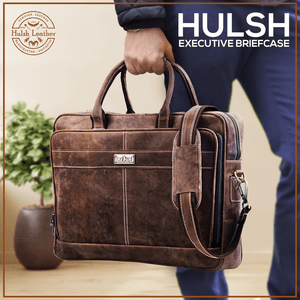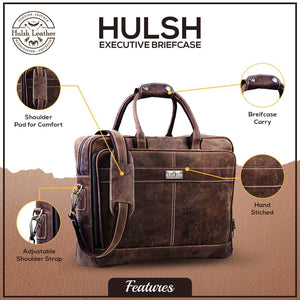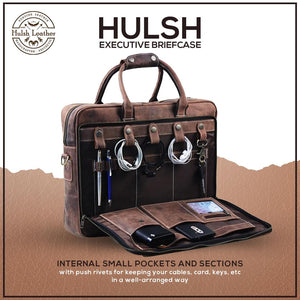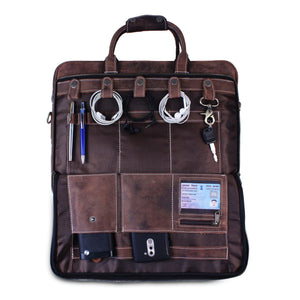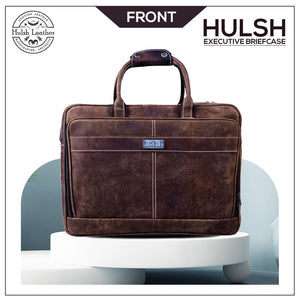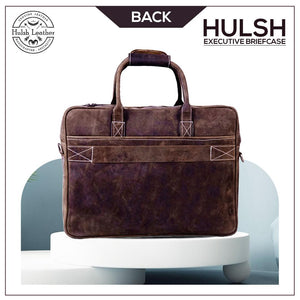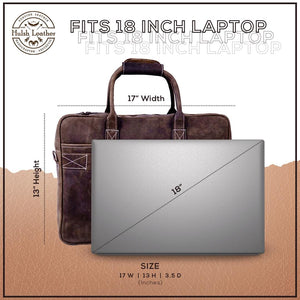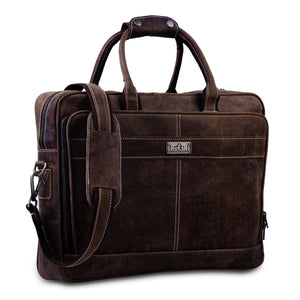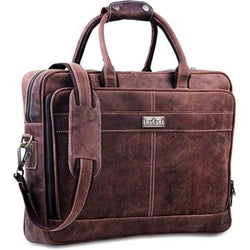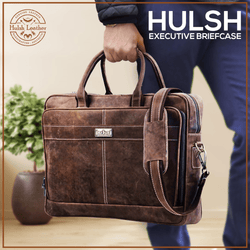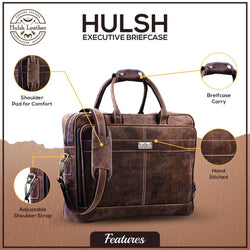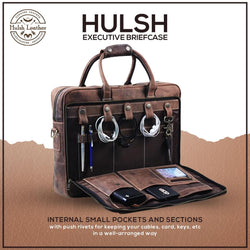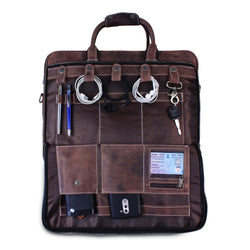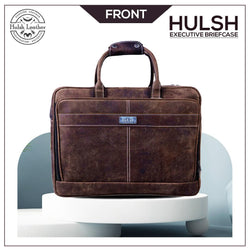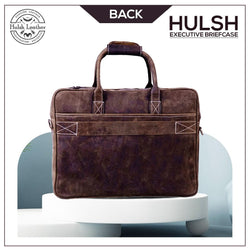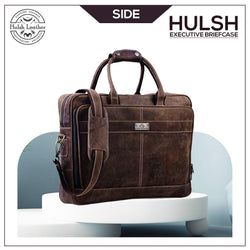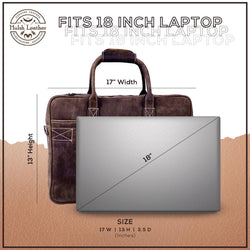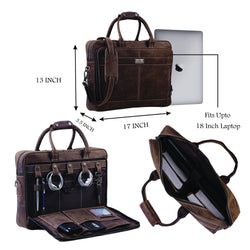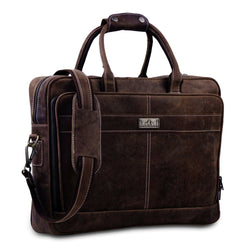 Our Executive leather briefcase bag is designed to provide both style and functionality for modern professionals. Made from top-quality leather, this leather briefcase is built to last, providing durability and protection for all your belongings.
The leather briefcase bag features multiple compartments and pockets, including a spacious main compartment that can accommodate a laptop up to 15.6 inches in size. This makes it perfect for busy executives carrying laptops, phones, and other important documents while on the go.
The leather briefcase bag sleek and stylish design is perfect for business trips or commuting to work, making it a versatile accessory that can be used in any professional setting. The high-quality leather provides a professional and sophisticated look, while the functional features ensure that it is practical and convenient for everyday use.
 Highlights of Hulsh Executive Briefcase
Our leather briefcase has been designed to be lightweight and easy to carry without sacrificing any of the durability or functionality you would expect from a high-quality leather briefcase. Using lightweight materials ensures that the leather bag won't add unnecessary weight to your load, making it ideal for professionals constantly on the go. This feature makes our Executive leather briefcase bag an excellent choice for those who prioritize comfort and ease of use daily.
Get a Timeless, Sophisticated Look
The design of our leather briefcase has classic and simple elements, such as clean lines and minimalistic detailing, contributing to its timeless and sophisticated aesthetic. It makes an excellent choice for professionals who want to make a strong impression in business settings or anyone who values classic and refined style daily. With our executive leather briefcase bag, you can be assured that you will always look polished and put-together while enjoying the practicality and convenience of a well-designed leather briefcase.
Our leather briefcase is designed with practicality and efficiency, providing the perfect solution for professionals who must stay organized throughout their workday. With multiple compartments and pockets, our leather briefcase offers ample space to store and categorize your important documents, files, and electronic devices.
The compartments are designed to be easily accessible, allowing you to quickly retrieve what you need without wasting time searching through your belongings. This leather briefcase feature makes it easy to stay organized and on top of your work, even on the go.
Features of Leather Briefcase Bag
Concealed Push locks for easy and fast access.

18 inches wide Fits laptops up to 17 inches

Padded sleeves

Lined with durable canvas.

Strong Top Handle for better grip and handling.

The adjustable Shoulder strap can be removed.

Internal small pockets and sections with push rivets for keeping your cables, card, keys, etc., in a well-arranged way.

The main compartment does have enough space for other files/folders. Even though you can carry overnight clothes with zippered compartments. This men's briefcase is easy to carry for office or school, meeting or presentation, you won't regret buying this.
Sizes of Hulsh Executive Briefcase
Free Shipping and Returns on Hulsh Executive Briefcase
Liked this Hulsh executive briefcase? Great! Hulsh leather offers free shipping on all orders. The typical delivery time is between 2- 10 business days, depending on your location.
Need to be happier with our product? Do not worry. Returns on our website are easy and hassle-free. If you are unsatisfied with our bag quality, return your purchase within 30 days, and we promise to give you a full refund without hesitation.
30-Day Money Back Guarantee on Hulsh Executive Briefcase
All purchases from our store come with a 30-day money-back guarantee. Have you got your eye on something? Try it out for 30 days. If it's not for you, return it to us, and we'll refund the total amount of your order.