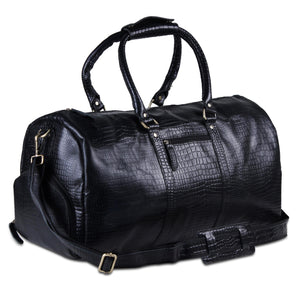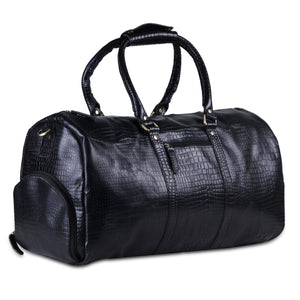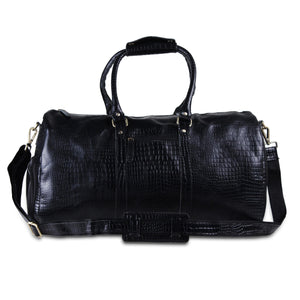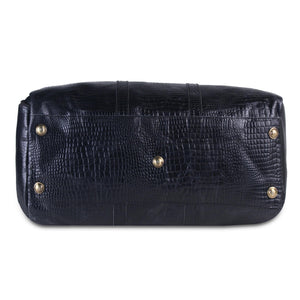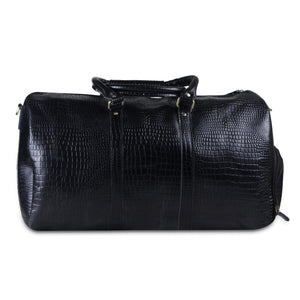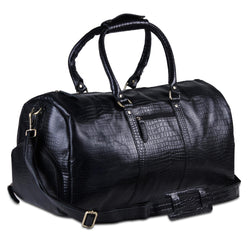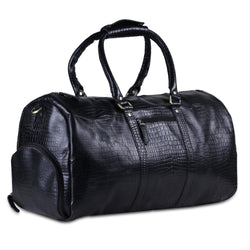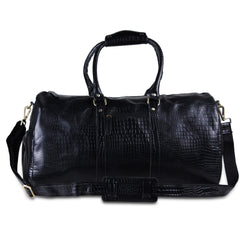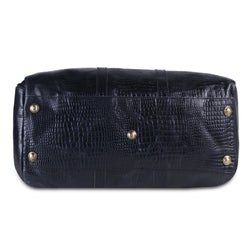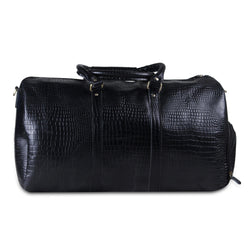 Do you like adventure and thrilling trips that make you have an adrenaline rush? The Genuine Black Leather Crocodile Textured Duffle Bag is exclusively designed to meet your taste in the wild with its bold and appealing looks. The Crocodile Texture is given to it by our very skilled artisans using the best quality leather. This Black leather travel bag is best suited to give you a macho and bold look.
With one major compartment, The Overnight Weekend Black Leather Duffle Bag is handcrafted for you to store all the travel essentials that you may need for a few days traveling. The leather travel bag easily fits your clothes, shoes, passports,  and even utility bag in the main compartment making it an ideal choice for your traveling need.
The Crocodile textured leather weekender bag comprises durable, extra-thick, stylish leather, brass hardware, a canvas interior, and a comfortable, removable shoulder strap, making it last long and reliable for your trips and outings making it comfortable and tension-free.
FEATURES
Genuine Full Grain Black buffalo Leather
Crocodile Texture gives a bold look
21 inches wide. Lightweight and sturdy
Zippered compartment for easy storage.
One big compartment for comfortable storage.
External zipper pouch for keeping the stuff safe.
Lined with durable canvas.
Strong Top Handle for better grip and handling.
The adjustable Shoulder strap can be removed.
The major compartment can hold essential kinds of stuff like clothes, utility bags etc while the side pockets for cards, passports etc. Concealed zipper pouch is well suited to keep money, passport, cables, keys, etc.
DESCRIPTION
If you want a perfect leather bag and if you are very picky when it comes to your leather goods, this Black Crocodile textured Leather Duffle Bag will be ideal for you. Significantly spacious and well suited according to your taste, giving you the chance to make a bold statement and appeal among others. Also, the strong top handle and removable shoulder straps make it easy for you to handle and access the bag even in a busy environment.
Our leather bags are handmade to the highest quality and our designs are inspired by vintage classic look. It will not only make you stylish but also is very functional and you will be definitely making a style statement wherever you go.
SHIPPING AND RETURNS
Liked our bags? Good News!!! Hulsh leather offers free shipping on all orders. The typical delivery time is between 2- 10 business days, depending on your country.
Not satisfied? Not to worry. Returns are easy and hassle-free!!! Simply return your item within 30 days and we promise you to give a full refund, without any hesitation. 
30-DAY MONEYBACK GUARANTEE
All purchases from our store come with a 30-day moneyback guarantee.
Got your eye on something? Try it out for 30 days. If it's not for you, just return it to us and we'll refund the full amount of your order. Simple.