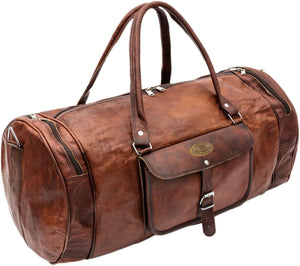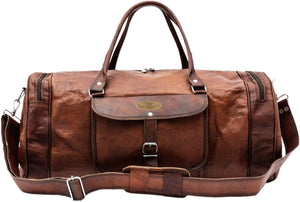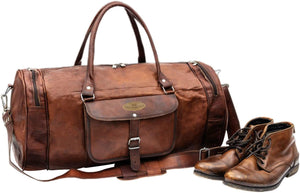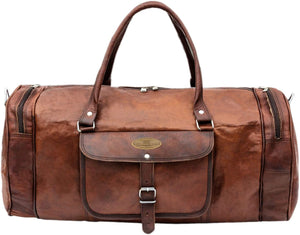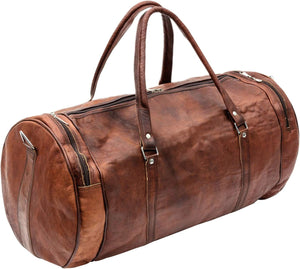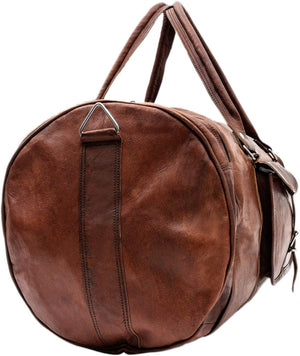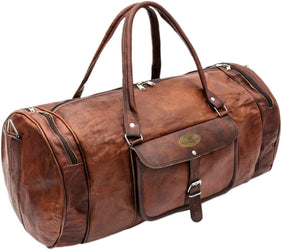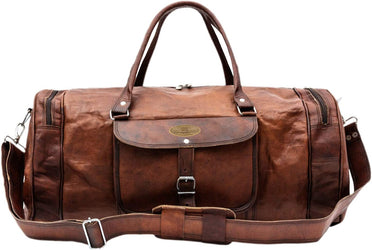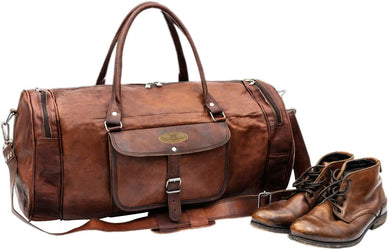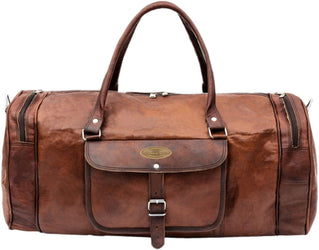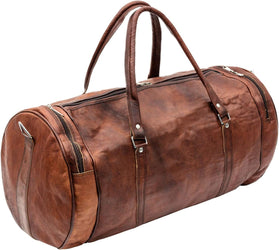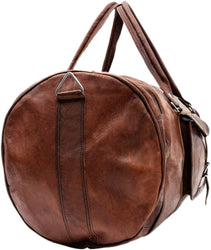 Features
Look and Feel: The vintage look of this Weekender Duffle Bag is one of the most striking features that make it a perfect combination for formal as well as casual attire. The fine embroidery over the gym Duffle bag makes it look artistic along with keeping it secured with the inner lining. This Leather Duffle Bag is made up of full-grain goat leather thereby making it durable at the same time.
Great for Storage: The Men's Leather bag is a must to have accessory fit for gym and even a night out as well. This Vintage Leather Bag has ample space to accommodate the basic essentials like gym clothes, shoes, and other gadgets. Also, if you are planning to go on a trip for a day or two then this is the Best Vintage Leather Bag that will fit your requirement. Along with the main inner compartment it has outer zipper compartments on the side and a front compartment with a push lock. You can store all your belongings easily.
Perfect Size: This Pure Leather Duffle Bag has been crafted in such a style that its size is perfect for each and every occasion. The dimensions are so accurate that it is just the right size to fit in all the essentials for a trip or for day to day commuting as well.
Effortless Carrying: For ease of carrying, this Men's Leather Duffle Bag comes with two handles accompanied by a detachable belt making it easy to carry anywhere and everywhere you go. This enhances the grip of the bag and helps in load sharing of the Vintage Leather Gym Bag. The ease of carrying adds another star to this Best Duffle Bag. Therefore, along with being durable and stylish, it is a perfect match for complimenting your trips.
Sizes Available
21" Length x 10" Height x 8.5" Width
24" Length x 10" Height x 10" Width
28" Length x 12" Height x 12" Width
30" Length x 12" Height x 12" Width
Description
Quality is the most critical part at Hulsh Leather and we believe that our leather bags are handcrafted with the finest quality of leather.
Our bags are inspired by the classic vintage look. Our bags will not only redesign your look but will also definitely make you feel confident in every state of affairs. Our leather duffle bags have multipurpose properties that can make any occasion worth flaunting.
This stylish Duffle Bag for Men is a colossal pick to make a fashion statement along with being handy for your stuff. The bags have a light leather smell
which might be due to the packaging. Once you receive the package, leave it open for a few hours and after that, it can be used without any hassle.