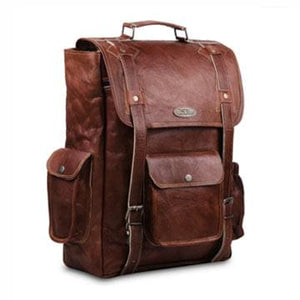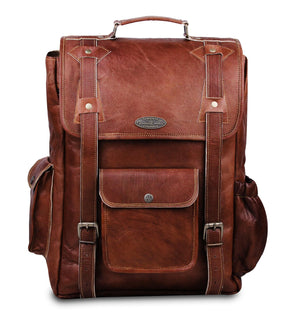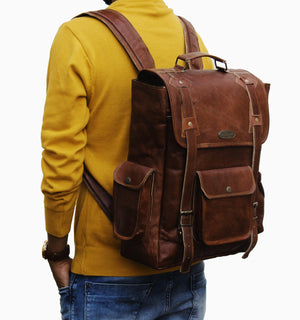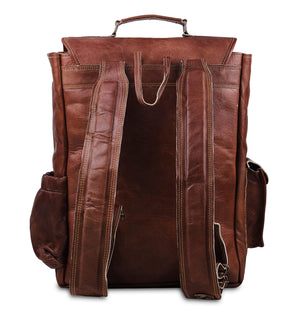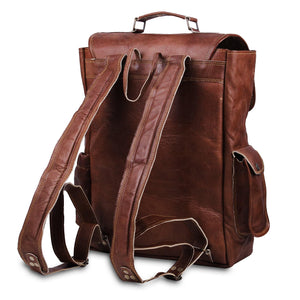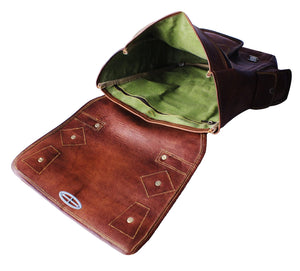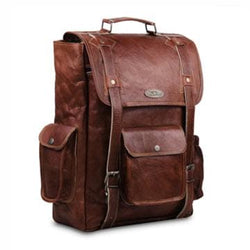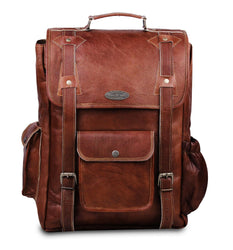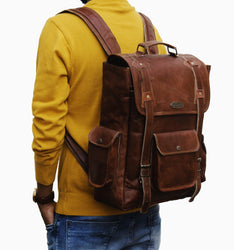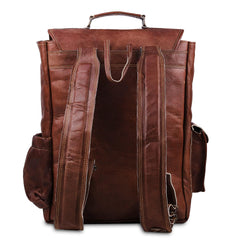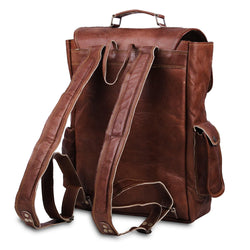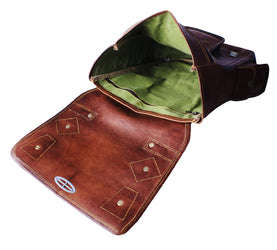 Features
Legitimate Leather:

This leather backpack has been crafted out of 100% pure full-grain leather. The vintage leather backpack has been meticulously crafted with care so that the customers get a vivid experience over a long period of time. Due to the use of authentic leather, this leather backpack for men does not wear out easily.
Excellence and elegance at its best:

This leather backpack for the laptop has been handcrafted by our craftsmen with a view to putting up with your casual as well as formal look. It is one of the best leather laptop bags suitable both for women and men. There are multiple options for styling this bag with your look and flaunt yourself the way you desire.
Rugged is the new trend:

With a rugged look, this brown leather laptop bag takes you to the vintage time that has become the latest trend. This rugged vintage leather backpack is ideal for women as it shares the load on both shoulders. This leather backpack has push locks that make it secure and easy to open at the same time.
Ample space:

This vintage leather backpack for men and women comes with spacious compartments that make it fit even for overnight trips. The size of this leather backpack is compatible which does not make it bulky or intricate to take along. The rugged vintage leather bag comes with multiple outer pockets that provide ample space to store extra accessories like chargers, mobile phones, and other similar items.
Description
Why to Choose Hulsh?
We, at HULSH LEATHER BAGS, ensure that the clients get quality handmade products carved out from genuine leather. The products are 100% chemical-free and Eco friendly. We have a team of professionally skilled artisans who have hands-on experience in crafting similar products for a long period of time. Therefore, our customers get purely handcrafted quality products.
HULSH Leather backpacks are perfect for men and women along with being a match for all who are planning to buy a new bag either for their office, college or casual use.
Money back guaranteed: Through our website, you get the premium quality products only. We do make sure that all the clients get what they order and receive the perfect product without any discrepancy. However, we are all humans and in the end, if there are any issues with the product or if the products are not at par with the customer requirements then you will get a 100% return. All our products do come with a money-back scheme that ensures your every penny counts. 
SIMPLE MAINTENANCE
Apply cleaning solution on a dry cloth

Thoroughly wipe down the leather material of the bag with the cloth.

Use a separate unsoiled cloth to clean the bag.

Avoid cleaning products with alcohol, turpentine or other mineral spirits as they will discolor and dry out leather.

Never allow water to soak into your bag. If the bag gets wet, do not use a hairdryer on it. Instead, absorb as much water as possible with a thick microfiber hand towel and allow the bag to air dry. Then, condition it again and store it.