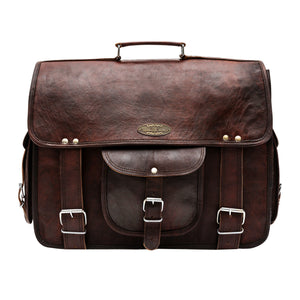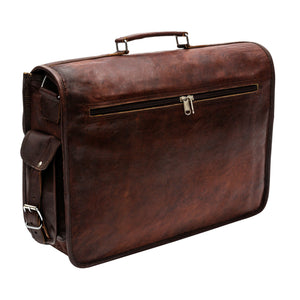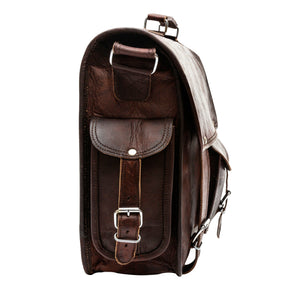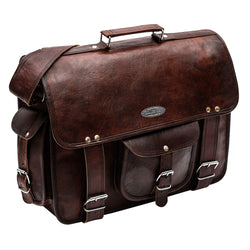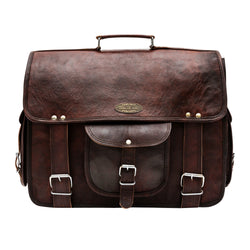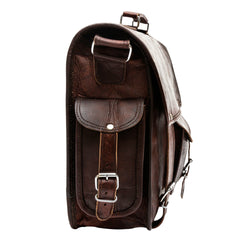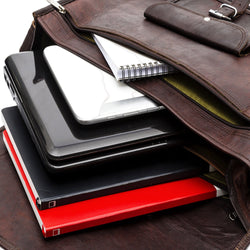 Handmade – This Vintage Men's Brown Leather Briefcase Laptop Messenger Bag is purely handcrafted by the best artisan from India and they are having decades of experience in this field. The stitching is also done very beautifully which is also very strong. This bag is double-checked and durable enough.
Features of this bag - Lockable inner section for added security and to avoid spilling of contents. 2 zipper sections including one back zipper. One big pocket in front for files/folders and a small pocket in front for cell phones etc.
Spacious  - This shoulder bag can also be used as a: Leather messenger bag for men, laptop leather bag, messenger bag for women, college bag, meeting bag, gift idea, birthday present, Christmas present, vintage leather bag, quality bag, unisex bag, real leather bag, brown leather bag, leather briefcase.
MATERIALS 
Full-Grain Goat Leather 
Brass Material
Sizes
15 W x 11 H x 4.5 D in inches (For MackBook or laptops: 13 & 14 Inches)
16 W x 12 H x 4.5 D in inches (For Medium laptops: 15 & 15.6 Inches)
18 W x 13 H x 5 D in inches (For Large laptops: 17 & 17.2 Inches)
 DESCRIPTION
If you want a perfect leather bag and if you are very picky when it comes to your leather goods, this Vintage Men's Brown Leather Briefcase Laptop Messenger Bag will be ideal for you. We live in a new era where laptops, tablets, and smartphones are a very important part of our life. We have developed a wide range of leather messenger bags and all the types of leather bags you could think of to keep your gadgets and important document safe.
Our leather bags are handmade to the highest quality and our designs are inspired by vintage classic look. It will not only make you stylish but also it is very functional and you will be definitely making a style statement wherever you go.
Reason to choose the leather bags from us – We all look for quality things in terms of anything that we use, and we always want that thing should last long. Leather goods are one of them, Leather is one of the materials which really last long. The following are the reasons why you should choose leather bags from us.
Fast Shipping - 3-7 Working days Guaranteed Delivery
100% Handmade & Handstitched 
Eco - friendly
Made by a real Artisan 
24*7 Customer support
Money-Back Guarantee - Get the item you ordered or get your money back.