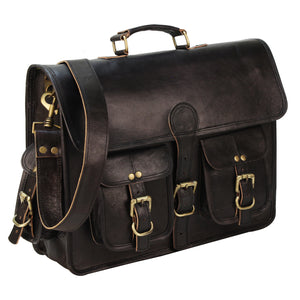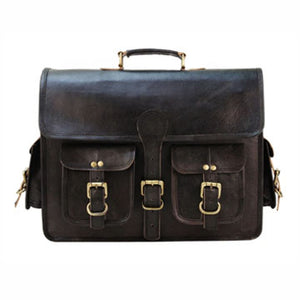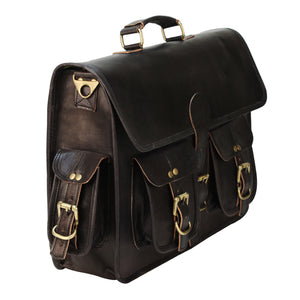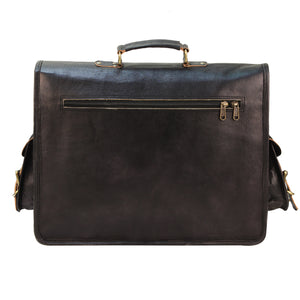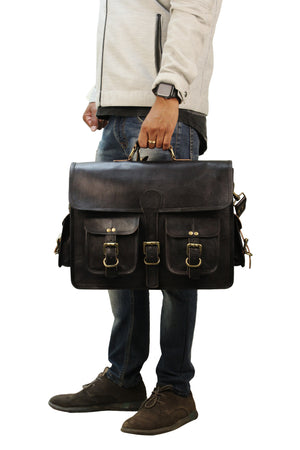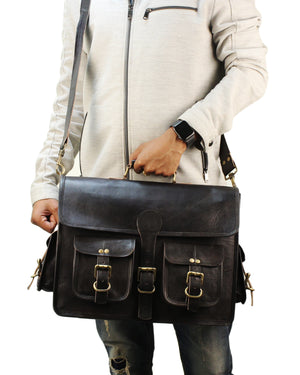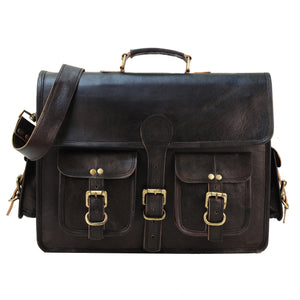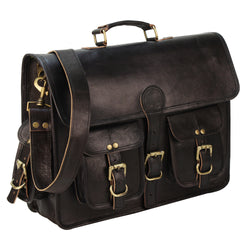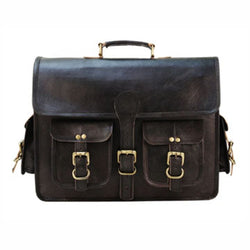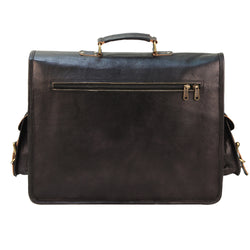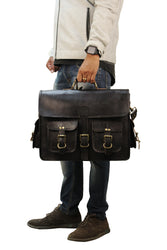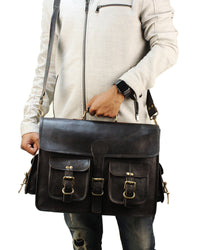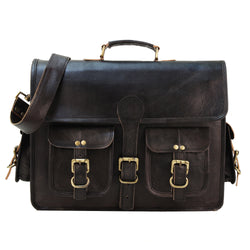 The vintage finish of the leather gives the leather briefcase a unique character and charm, which only adds to its classic appeal. High-quality leather also ensures the leather briefcase bag will withstand daily wear and tear, making it a reliable and long-lasting investment. With multiple compartments and pockets, this vintage leather briefcase provides ample storage space for all your essential belongings. The interior of the leather briefcase is lined with a soft material that protects your items from scratches and other damage.
The vintage leather briefcase also features a comfortable carrying handle and an adjustable shoulder strap, allowing you to carry it easily and comfortably. The sturdy hardware and well-crafted stitching provide added durability, ensuring the leather briefcase for men lasts for years. Whether you're a business professional, a student, or simply someone who values classic style, the mens leather briefcase is the perfect accessory to elevate your look. Its timeless design and practical features make it versatile for any occasion.
Highlights of The Vintage Black
Our vintage leather briefcase bag is a true testament to the beauty and allure of old-fashioned style. Crafted from high-quality leather and designed with careful attention to detail, this leather briefcase exudes a sense of history and character that will turn heads. The rich, warm tones of the leather and the leather bag's classic design are reminiscent of a bygone era when quality craftsmanship and attention to detail were the norms.
When it comes to timeless accessories, our vintage leather briefcase bag is the epitome of classic style. With its timeless design and high-quality materials, this leather briefcase bag is a true investment piece that will always stay in style. Crafted from the finest leather, this leather bag exudes a sense of sophistication and elegance that is hard to match.
We take great pride in the craftsmanship that goes into each and every piece. Our Leather briefcase for women bag is not just a stylish accessory; it is a work of art crafted using old-world techniques and the finest materials. This leather briefcase is made by skilled artisans who carefully cut and stitch the leather by hand. This attention to detail ensures that every seam is perfect, every stitch is strong, and every piece is right. The result is a Leather briefcase for women bag that is not only beautiful but also durable and functional.
Features of Leather Briefcase Bag
Stylish and Comfortable

Real Leather 

Strap & Handle

Big Storage

Perfect Sizes

Assured quality
Sizes of The Vintage Black
15 inches.

16 inches.

18 inches.
Free Shipping and Returns on The Vintage Black
Liked this The Vintage Black? Great! Hulsh leather offers free shipping on all orders. The typical delivery time is between 2- 10 business days, depending on your location.
Need to be happier with our product? Do not worry. Returns on our website are easy and hassle-free. If you are unsatisfied with our bag quality, return your purchase within 30 days, and we promise to give you a full refund without hesitation.
30-Day Money Back Guarantee on The Vintage Black
All purchases from our store come with a 30-day money-back guarantee. Have you got your eye on something? Try it out for 30 days. If it's not for you, return it to us, and we'll refund the total amount of your order.